Find it in London
Tourism London made this amazing video of our store. Get a glimpse of what makes us the amazing bookstore we are (you know if we can toot our own horn) and be sure to come visit.
Care Package Ideas for the Bibliophiles in your life
For the Reader
Each package includes:
5 books* of your chosen genre. Card from one of the fabulous Canadian card companies we carry. Inscribe it with heartfelt words to go with your gift of books or keep it blank.
For the Snail Mailer
Included:
5 cards*
collection of unused vintage Canadian stamps (total face value $10)
Send a smile across the miles (kilometers 😉)
*May not be cards show in picture and stamp packages all vary
Snapshots of Bookshop Life
Attic Books Instagram @atticbooksca
Looking for a particular title?
Call the store (519-432-7277) or use our request form and we can check our shelves and backstock.
More categories with new arrivals
Welcome to Attic Books
We have three floors of books, maps, prints, paper collectibles, such as ephemera and postcards, and eccentric antiques that appeal to readers, scholars and seasoned collectors alike. The atmosphere is spacious, bright and relaxed, not to mention architecturally beautiful, with its original tin ceilings, hardwood maple floors and all the charisma of a century building. This, along with the help of our friendly and knowledgeable staff, will ensure that every visit to Attic Books will be memorable.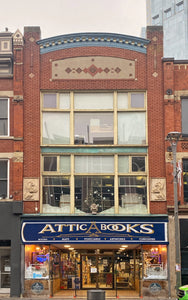 240 Dundas Street
London, Ontario
N6A 1H3
Open for in-store browsing.
We can also assist with questions via phone, email or DM to Instagram, Twitter and Facebook @atticbooksca
Mon-Sat 10-5
------
Other options:
Curbside pickup, Home Delivery (London, Ontario) or via Canada Post