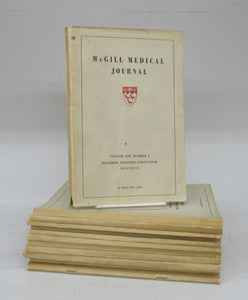 INVENTORY
#5439
McGill Medical Journal
STEVENSON, James A. F.; STEVENSON, Ian P. ; MURRAY, Robert G. E. ; ENTIN, Martin (eds.)
Regular price $114.00 Sale
Articles such as: "Britain Keeps Fit" by R. Williamson; "The Students' Council and the War"; "Panel Discussion on Poliomyelitis" with H. B. Cushing, A. Goldbloom, N. T. Williamson; "The Five Day Treatment of Early Syphilis" by B. Usher; "Geriatrics and the War" by D. deF. Bauer; "The Medical Aspects of Oliver Wendell Holmes" by I. P. Stevenson; "Chemotherapy in Experimental Tuberculosis" by K. I. Melville; "Royal Canadian Army Medical Corps" by H. P. Wright; "On Looking into Osler's 'Practice of Medicine'" by N. Feeney; "Penicillin: A Wonder Drug?," "Canadian National Venereal Disease Control Conference" by D. H. Williams; "On the Question of Teaching the Prevention, Diagnosis, Treatment and Management of Syphilis in Medical Schools" by Frederick Kalz; "Some Methods in the Management of Mental Diseases" by William E. Powles; "Chemical Warfare in Peace" by I. M. Rabinowitch; "The Plastic Repair of Congenital Harelip" by Hamilton Baxter; "Fright and Anxiety States in War Psychiatry" by Miguel Prados; an editorial on Osler on the 25th anniversary of his death; "McGill Medical Men in the University War Records" by R. C. Fetherstonhaugh; "The Early Development of Paediatrics as a Specialty in Montreal" by H. B. Cushing; a prize essay entitled "National Health Insurance in Canada" by J. S. Tyhurst. Also V.D. briefs, case reports, news, comments, book reviews.
Publication Info
Publisher: McGill Medical Society
Edition: n/a
Date Published: 1941-44
Place Published: Montreal
ISBN: n/a
Details
Condition: Good
Signed: No
Dust Jacket: No
Jacket Condition: n/a
Details:
Vol. XI, No. 1 Oct. 1941 - Vol. XIII, No. 4 Dec. 1944. Vol. XI, No. 4 missing. Vol. XIII, No. 3 missing. 12 issues: 92; 132; 130; 100; 100; 92; 93-178; 179-271; 272-337; 108; 109-248; 380-540 p. Over 150 b&w illustrations, tables, charts. Cream card covers. Seven have signatures, initials or notations in either pencil or ink on covers. Some soiling to covers. Generally only light wear. Vol. XI, No. 3 and Vol. XIII, No. 4 have covers detached from text blocks. Insides very clean. Some ink marks on Vol. XII, No. 2 masthead.
Share the book love
Have a Question about this item?