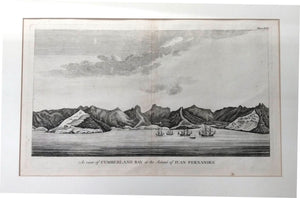 INVENTORY
#142379
A View of Cumberland Bay at the Island of Juan Fernandes
[ANSON, Lord George]
Regular price $100.00 Sale
An important engraving from Lord George Anson's "A Voyage Round the World in the Years 1740-1744." This is the fifth edition of the work. Published by John and Paul Knapton in London in 1749, the work was compiled by Richard Walter from Anson's papers and materials. The account of Anson's circumnavigation of the world is considered a "masterpiece of descriptive travel" and was the "most popular book of maritime adventure of the eighteenth century" (Hill). Anson's voyage inspired many British explorations in the Pacific, including that of Captain Cook. Anson's trip was strictly a military enterprise, though, its intent to disrupt Spanish commerce. At the beginning of a war with Spain, Anson's eight ships started out with the intention of harassing the Spanish on the west coast of South America. Seven ships were lost around Cape Horn, leading to the deaths of 600 out of 900 men. While the expedition was mostly a disaster, they did capture the Manila Galleon near China so that Anson and the surviving members of his crew reached England much richer.
Publication Info
Publisher: [John and Paul Knapton]
Edition: n/a
Date Published: [1749]
Place Published: [London]
ISBN: n/a
Details
Condition: Near fine
Signed: No
Dust Jacket: No
Jacket Condition: n/a
Details:
27 x 44 cm page taped to 41 x 53 cm board. Illustration itself is 18 x 34 cm. Vertical crease. "Plate XVII" engraved at top right. Minor spot at bottom edge.
Share the book love
Have a Question about this item?