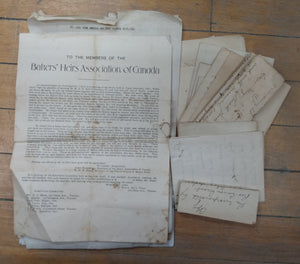 INVENTORY
#142258
Items pertaining to the "Baker Hoax"
Various
Regular price $125.00 Sale
The deception circled around a purported unclaimed Baker estate in Pennsylvania, supposedly belonging to the heirs of one Jacob Baker. A vast search for his family was begun in the late 1800s and continued into the 20th century. Unfortunately, while many Baker families around the world sent genealogical "proof" of their relationships, as well as money, to the Heirs' Association, it was all a hoax. Numerous lawyers, judges and government officials were taken in and many people scammed out of their homes, farms, and life savings. As a benefit, however, many legitimate Baker family trees were produced for posterity. This poignant little collection may interest folks named Baker as well as genealogists, legal historians, and afficionados of hoaxes and true crime, as well as anyone concerned with the greedy and gullible aspects of human nature.
Publication Info
Publisher: n/a
Edition: n/a
Date Published: ca. 1890s - 1921
Place Published: n/a
ISBN: n/a
Details
Condition: Good
Signed: No
Dust Jacket: No
Jacket Condition: n/a
Details:
1) Printed letter to the Members of the Bakers' Heirs Association of Canada, detailing the "search" and asking for contributions to pay expenses. Creased and stained. 2) Second printed letter on blue paper asking for $5 to defray expenses of association president. Small stains and holes. 3) 4 p. typewritten document titled "All Reads Like an Old-Time Romance. Watkin's Heirs of the Baker Estate Confident of Wealth." Pertains to a "Peter Baker." Some ink marks. 4) 2 form letters from the association president on Iroquois Avenue, Detroit dated Feb. 1921. One has name of Laura Davies on Lock St. S., Hamilton, Ontario. 5) 2 typed documents "To all the Heirs of the Baker Estate" with typed signature of Henry Baker, Fargo, N. Dak." 6) About a dozen handwritten documents from Bakers and Baker relatives in Canada, identifying their relationships to other Bakers. Letters from citizens in Kingston, Toronto, Moscow, and Hinch, Ontario dating from about 1899 to 1911. We have included an online printout exlaining the historical details of this swindle that convinced credulous people worldwide.
Share the book love
Have a Question about this item?