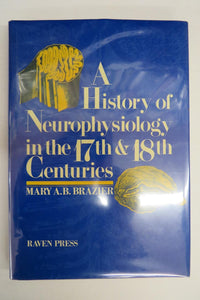 INVENTORY
#113947
A History of Neurophysiology in the 17th and 18th Centuries: From Concept To Experiment
BRAZIER, Mary A. B.
Regular price $57.00 Sale
Contents: The Forerunners: Experimentation Challenges the Ancients; The Mechanistic Revolution Opens; A New Technique Comes to Neural Science; Transition in the English Schools; Emphasis on Structure; The Impact on Philosophers and Mathematicians; Academics and Societies of Science; The Great Teachers; The Vitalists; The Great Italian Schools; The Age of Enlightenment; Development of Research on the Spinal Cord; Beginnings of Electrophysiology; Attempts at Electrotherapy; 18th Century Research on Emission of Electricity by Biological Species. The Electric Fish; Animal Electricity Vindicated. Galvani's Commentary; Dissemination of Knowledge in the 18th Century; Name Index; Subject Index.
Publication Info
Publisher: Raven Press
Edition: n/a
Date Published: 1984
Place Published: New York
ISBN: 0890045534
Details
Condition: Very good
Signed: No
Dust Jacket: Yes
Jacket Condition: Good
Details:
xiii, 230p. 26 cm. Blue hardcover binding with gold lettering on spine. Graphic dust jacket wrapped in protective mylar. Includes 101 black & white illustrations. Dust jacket yellowing with minor wear to paper at edges. Bumping to binding around edges and spine. Pages clean. Text unmarked. Very good condition.
Share the book love
Have a Question about this item?