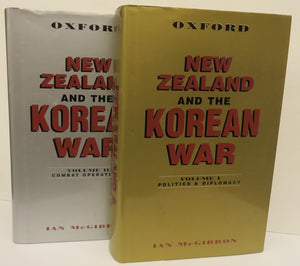 INVENTORY
#113390
New Zealand and the Korean War (2 vols.)
McGIBBON, Ian
Regular price $113.00 Sale
Volume I: Politics and Diplomacy: Part I: North Korea's Bid for Victory; Part II The Consequences of Temptation; Appendix I: United Nations Resolutions; Appendix II: Contributions to the United Nations Effort in Korea; and 8 Maps. Volume II: Combat Operations: Part I: New Zealand's Frigates in Action, June-December 1950; Part II: Kayforce Enters the Fray, July 1950-January 1951; Part III: Defeating China's Bid for Victory, February-June 1951; Part IV: Supporting the Armistice Talks, July-December 1951; Part V: Stalemate Operations, December 1951-Decembers 1952; Part VI: Armistice and Aftermath, January 1953-August 1957; Appendices: Roll of Honour; Honours and Awards; New Zealand Naval Units in Korea; Kayforce Embarkations; Statistical Breakdown of Kayforce's Main Body; Kayforce Commander's Directive; Kayforce Order of Battle; Senior Appointments, Kayforce; Commonwealth Division Order of Battle; Kayforce Songs; Biographical Details of New Zealand Servicemen, and 25 maps.
Publication Info
Publisher: Oxford University Press
Edition: Vol. I a reprint with corrections
Date Published: 1996
Place Published: Auckland
ISBN: 0195582535; 0195583434
Details
Condition: Very good
Signed: No
Dust Jacket: Yes
Jacket Condition: Very good
Details:
2 vols.: xiv, 468; xvii, 508 p. Hardcover bindings with gold lettering on spines. Gold and silver dustjackets. Minor soiling to dust jackets, slight bumps to edges of boards and spine ends. Pages clean.
Share the book love
Have a Question about this item?