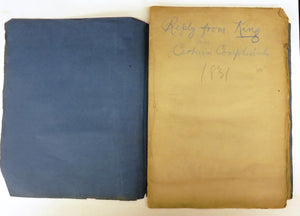 INVENTORY
#111814
Lower Canada - House of Assembly.
The Governor
Regular price $500.00 Sale
Text in English on verso and French on recto. Begins: "Aylmer, Governor in Chief, in pursurance of Orders from His Majesty's Government which have been communicated to him, transmits to the House of Assumbly Copy of a Despatch dated the seventh of July last, addressed to His Excellency by Viscount Goderich, His Majesty's Principal Secretary of State for the Colonial Department, having reference to the Petition of the House of Assembly touching certain matters of complaint, addressed to the King, and transmitted during the last Session of the Provincial Parliament, at their desire, by the Governor in Chief to Viscount Goderich, for the purpose of being laid at the foot of the Throne. In this Communication which is copied word for word from the Original Despatch, the House of Assembly will not fail to trace the paternal feelings of His Majesty towards His faithful Canadian Subjects, and his anxiety to comply with all the reasonable desires." 18 Nov. 1831. The complaint letter to the King touches on such subjects as: education of the people of the province, impeded by the diversion of the Revenues of the Jesuits originally destined for that purpose; withholdng of grants of land for schools; rejection of the legislature of certain education bills; Parliament's power over provincial trade; the towns, parishes, townships, counties have insufficient legal power to manage their local concerns; inefficient and expensive administration of justice; etc. The King's answers may have been unsatisfactory to many, and many of these complaints led to the Rebellion of 1837.
Publication Info
Publisher: n/a
Edition: n/a
Date Published: 1831
Place Published: n/a
ISBN: n/a
Details
Condition: Good
Signed: No
Dust Jacket: No
Jacket Condition: n/a
Details:
19 p. 33 cm. Blue paper wraps to which pages are not attached. Paper bound with string. Front endpaper inscribed in blue pencil crayon 'Reply from King on Certain Complaints.' Endpapers darkened and their edges are roughened. Pages inside are bright and clean and mainly uncut. Slight stain to the edge of p. 19.
Share the book love
Have a Question about this item?