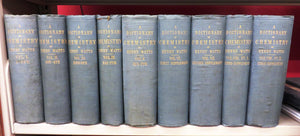 INVENTORY
#106953
A Dictionary of Chemistry and the Allied Branches of Other Sciences
WATTS, Henry (ed.).
Regular price $2,500.00 Sale
The first edition of this mammoth chemical encyclopedia appeared from 1863 to 1868 but a new edition became necessary within just a few years due to the rapid and considerable changes occurring in scientific knowledge. The 19th century was an age of revolution in the manner of viewing and describing chemical reactions. Particular attention in these volumes is given to both qualitative and quantitative analytical processes. Though editor Henry Watts (1815-1884) was a well-known scientist in his own right, the list of contributors to the volumes reads like a who's who of 19th century chemists. William Dittmar (1859 - 1951) was a German who made his career in Britain; he was responsible for discovering the average salinity of seawater in 1884 while analyzing 77 samples from around the world. Another German, August Wilhelm von Hofmann (1818 – 1892), invented the Hofmann voltameter for electrolyzing water. Sir Michael Foster (1836 - 1907) was a physiologist who taught at Cambridge. Frederick Guthrie (1833 - 1886) was a British scientific writer and professor who helped found the Physical Society of London (now the Institute of Physics) in 1874; he was well known for his view that science should be based on experimentation, not discussion. William Odling (1829 - 1921) was an Englishman who contributed to the development of the periodic table. Sir Henry Enfield Roscoe (1833 - 1915) was particularly noted for early work on photochemical studies. Two of these scientists wouldn't have got along. Sir Edward Frankland (1825 – 1899) was considered one of the foremost chemists of his day. An expert in water quality and analysis, he originated the concept of combining power, or valence, in chemistry. James Alfred Wanklyn (1834 – 1906), however, is remembered today for his "ammonia method" of determining water quality and for his fierce arguments with chemists such as Frankland, who opposed his testing practices.
Publication Info
Publisher: Longmans, Green, and Co.
Edition: New edition
Date Published: 1877-1882
Place Published: London
ISBN: n/a
Details
Condition: Very good
Signed: No
Dust Jacket: No
Jacket Condition: n/a
Details:
9 vols. vi, 1137; 985, 2, 15; 1096, 15; 804; vi, 1118, 15; xiii, 1136, 15; 1215, 15; 838; 842 to 2174, 15 p. 23.5 cm. 885 b&w figures and hundreds of tables, graphs and charts, five of which pull out. Blue cloth hardcovers with blind and gold impressing. Sunned spines. Spine ends softened and vol. IV has some tearing at top. A few bumped corners. Hinges cracking internally. Text block edges a little soiled. Interior clean and bright.
Share the book love
Have a Question about this item?